On a whim, I entered my Farscape vid
Fill Me Up
in Round 41 of the
Driver Picks the Music Vidding Awards
. It was my first time entering and I don't know much about them, except that there are a lot of fantastically professional and creative vids entered, so I didn't expect to be awarded anything. Especially with a Chiana-centric vid. And indeed, I didn't win any category awards, but I did receive this beauty: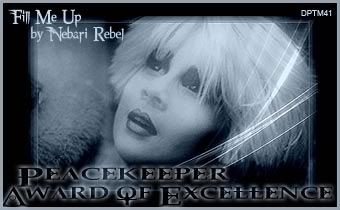 I poked around on their site to see what this was (sounds good though, right?) and saw that
"Once we have reviewed the vids separately, we will then discuss the entries to come to our decision for winners and runner-ups. If a vid made an especially strong impact on both of us, but did not place under any of the categories, that vid may receive an Award of Excellence. Awards of Excellence are set at a very high standard and are not awarded lightly."
Awesome =D And a heartfelt thank you to the judges.